The exciting online battle event of Illuvium and Blankos Block Party, the world's hottest NFT games, will be held this weekend! They are now inviting participants and spectators from all over the world.
Join the battle and win the prize!
Event Dates and Times
1. Illuvium – June 25th(Sat), 2022  12:00-(UTC)
2. Blankos Block Party – June 26th (Sun), 2022  12:00-(UTC)
You can find detail information in this article.
1. Illuvium
What is "Illuvium"?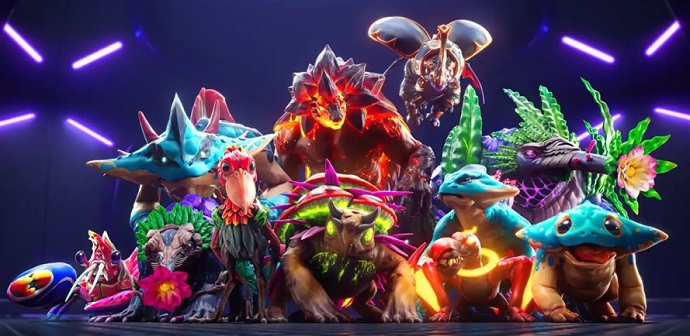 Illuvium is a blockchain battle game that players will fight for ETH while collecting and training "Illuvials,"  realistically drawn Pokémon-like beast characters. This NFT game is also famous for it raised over $72 million from its NFT land plots sale this month.
According to the official roadmap, the game is currently in a private βstage and only access rights holders can play so far. The public β release is scheduled for the second quarter of 2022, meaning that everyone will soon be able to enjoy the game!
The quality of the game content has been a hot topic on SNS, and Illuvium is gaining more recognition all around the world.
Click here for the official Illuvium website.
Overview of the Illuvium Tournament
How to join?
Only those who have access to the private β version can participate in this Illuvium battle tournament while anyone can watch the game via a YouTube live broadcast.
You can sign up to the event on the official event page here.
If you would like to enjoy watching the battle in real-time, join their YouTube.
Be sure to join in the Unique Discord to stay informed about upcoming game events.
Illuvium Tournament Information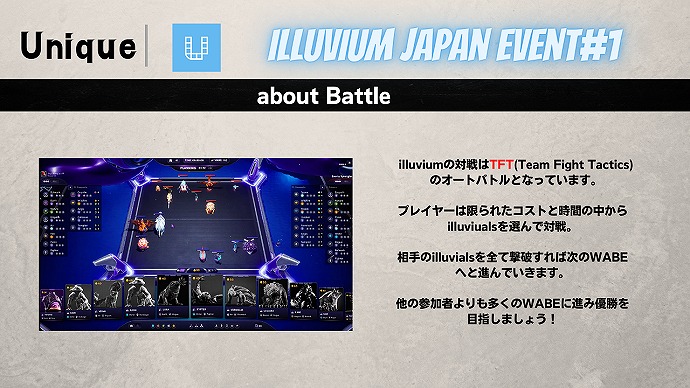 -The fighting style is TFT(Team Fight Tactics) auto-battle.
-You can choose illuvials(the game characters) from a limited number of costs and time to play against each other.
-If you defeat all of your opponent's illuvials, you can proceed to the next WAVE (stage level)!
-Try to advance to more WAVEs than other participants and win the championship!
Illuvium Timetable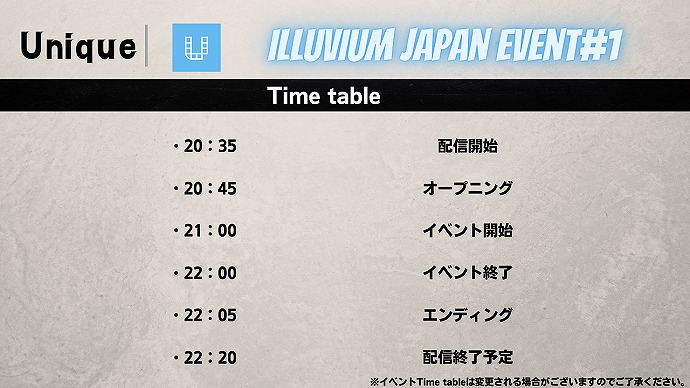 -11:35(UTC) Live broadcast starts
-11:45(UTC) Opening
-12:00(UTC) Event starts
-13:00(UTC) Event finish
-13:05(UTC) Ending
-13:20(UTC) Live broadcast ends
Battle Rules and Factors for Ranking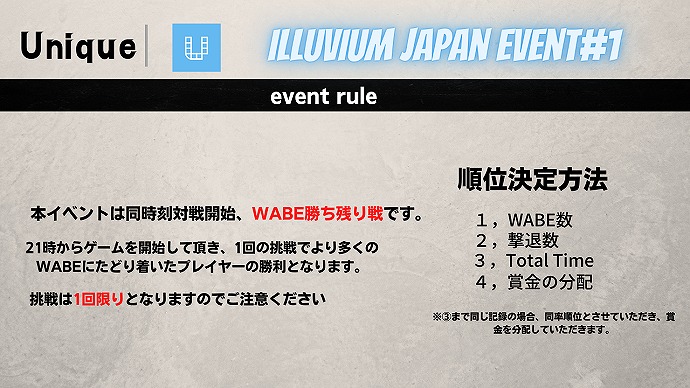 This event will start at the same time and is a WAVE (stage) -winning battle.
The battle will start at 12:00 (UTC)  and the player who reaches the most advanced WAVE (stage) in one challenge will win.
Please note that you have only one challenge.
Factors in determining ranking are as follows:
The level(number) of WAVE
The number of illuvials you defeat
The total time (shorter is better)
If these three factors are at the same level, the prize money will be distributed equally.
2. Blankos Block Party
What is "Blankos Block Party"?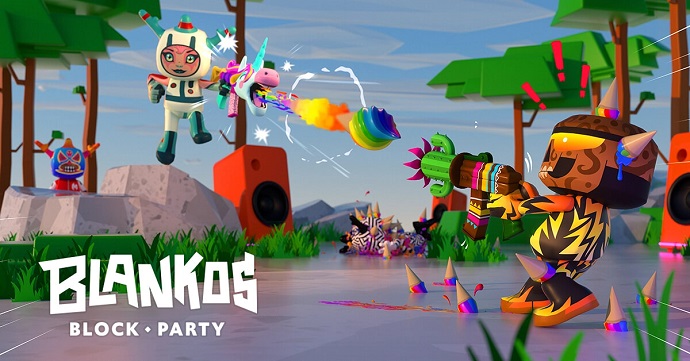 Blankos Block Party, one of the best-known NFT games, is a vibrant, open-world online multiplayer game in the style of a giant block party developed by Mythical Games. Collaborating with major brands such as Burberry, Nipsey Hussle and The Marathon Clothing, the art and architecture in the game are unique and excellent.
Blankos Block Party is now in Early Access for PC.
It is free to play. Click here for the official Blankos Block Party website.
Overview of the Blankos Tournament
How to join?
There are no entry requirements, but the number of participants is limited to 48. To participate in the tournament, visit the event page here.
If you want to just watch the battle, you can visit their YouTube live streaming here.
Be sure to join in the Unique Discord, as the game event will be facilitated in there.
Blankos Tournament Information
Blankos Block Party is a knockout tournament.
There are three types of competitions: RACE, SHOOTING, and VIBES.
The rules for each are very simple and easy to understand, even for beginners.
RACE
Try to finish before the other participants!
SHOOTING
Get and exchange weapons on the map or pick up bullets to defeat your opponents!
VIBES
Collect ⚡ on the map!
More information can be found on the event's official website here.
Blankos Timetable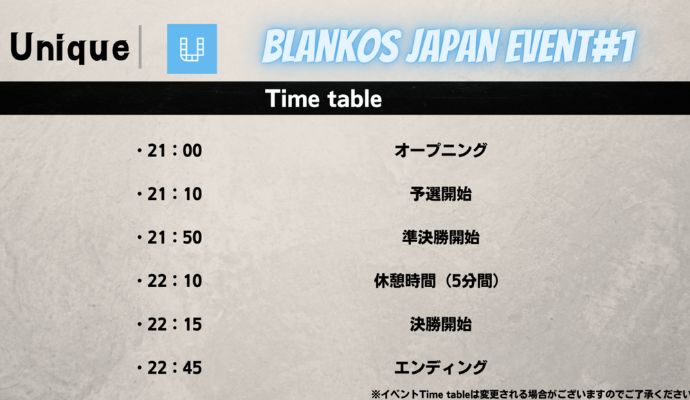 -12:00(UTC) Opening
-12:10(UTC) Preliminary Rounds
-12:50(UTC) Semifinals
-13:10(UTC) Intermission (5 minutes)
-13:15(UTC) Final match
-13:45(UTC) Ending
Sponsors, Supporters and Organizer
Event sponsors
"Samurai Guild Games" and "Ganverse Media" (It's us!) are the event sponsors.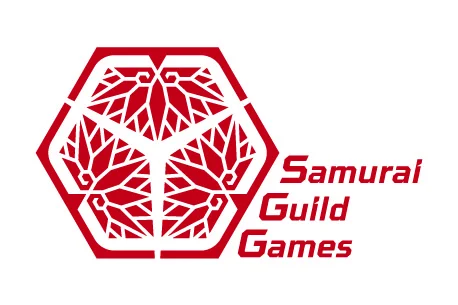 Samurai Guild Games is a Japanese gaming guild that eliminates barriers to entry into NFT games for Japanese people and actually practices Play-to-earn with all of its members.
We create new options in the lives of our guild members through games with the four elements of Play, Earn, Learn, and Create.

-Twitter: https://twitter.com/SamuraiGuildNFT
-Discord: https://discord.com/invite/bypduqHPcM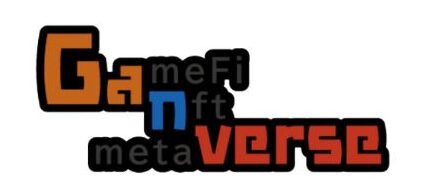 Ganverse – to Support Play-to-earn
Ganverse Media was launched in May 2022 and is dedicated to GameFi (BCG), NFT and Metaverse.

-Ganverse Media: https://ganverse-media.jp/
-Twitter: https://twitter.com/Ganverse_Media
Supporters


Organizer: Unique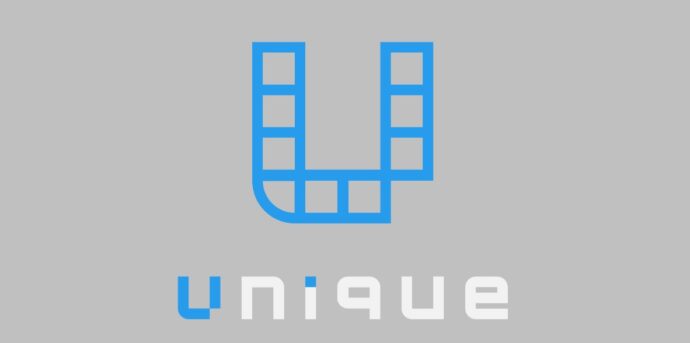 The organizer, Unique, is an organization founded in 2022 with the main purpose of "crossing NFT games and E-sports through tournaments and events" and with the social significance of bringing knowledge of crypto assets, etc. through NFT games to as many people as possible in Japan.
The following are the main activities of the organization.
-Operation of NFT game tournaments
-Online tournament management
-Community management
For more information, please check links below.