※日本語の記事はこちら
Overview of the Illuvium Tournament
Date and time: Saturday, June 25th  12:00 UTC
Event Title: Illuvium
Location: Online – Unique Discord server
Capacity: No upper limit
Conditions for participation: Access holders
Fighting Style: Simultaneous battles
Live Streaming: on YouTube
Participation Fee: Free
Winner Prize: 100BUSD
Event Official Website: Illuvium Japan Event #1
You can also check the link below for a detailed overview of [ Illuvium Japan Event #1 ].
Gaming Event! Illuvium and Blankos Japan Tournaments on June 25 and 26
This article provides detailed information on the following topics for players participating in [ Illuvium Japan Event #1 ].
Tournament entry and Discord participation
Event progression
How to receive a prize


1. Tournament Entry and Discord Participation

1) Fill in the Google entry form below.

***Entry Deadline: Thursday, June 23, 12:00 UTC

2) You will receive an auto-reply email with Discord invitation link to your email. Be sure to join the Discord.

You can also join the Unique Discord at this link.

*Once you are registered as a player, you will see player-only channels explained in this article.

Join the Unique Discord. ->

Check the rules and hit the good mark 👍. ->

2. Event Progression
Illuvium fighting style
Simultaneous battles
What to do on the day of the tournament
YouTube live streaming
All participants are requested to watch the YouTube live streaming from the link below.
Announcements from the administration will be reported in the #participant-chat in Discord or on the YouTube streaming. ->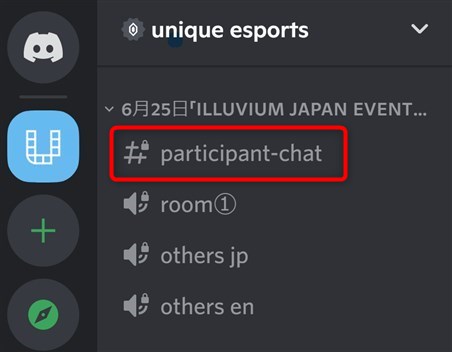 Event flow
The event will be managed in the Discord server. ->
-#participant-chat
-🔉room① (You can go in when instructed)
-🔉others jp / 🔉others en (until room① is open)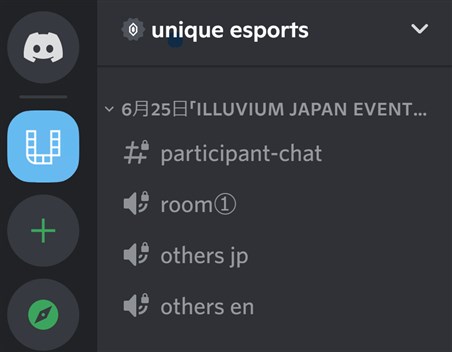 1) Participants are requested to join the participant-chat before 12:00 UTC.
2) When instructed, please join the voice channel of room①. (⚠️ Please share your screen and mute your speakers.)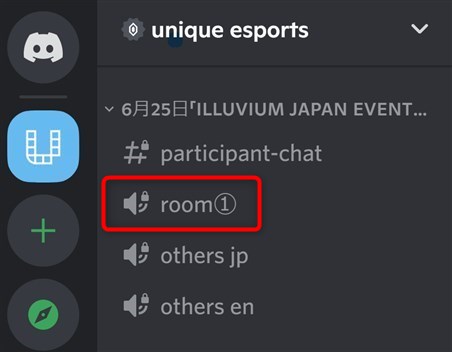 3) As soon as all participants are present, the WAVE battle will begin.
If you lost the WAVE battle, unfortunately, the battle is over. Please exit from the voice channel of room①.
(Please note that you have only one chance to battle.)
4) The event ends when everyone's fight is over.
Results and announcements from Unique will be announced on YouTube.
Notes on screen sharing and voice channel participation
1. Please confirm instructions from the management or on the YouTube streaming before joining the voice channel of room①.
2. Please make sure to mute your speakers when participating in the voice chat.
3. Only officially applied players should enter the voice channel.
ーFollow the rules and make this memorable event a great one together:)!
4. Please use [ others jp ] and [ others en ] when you are not in room①.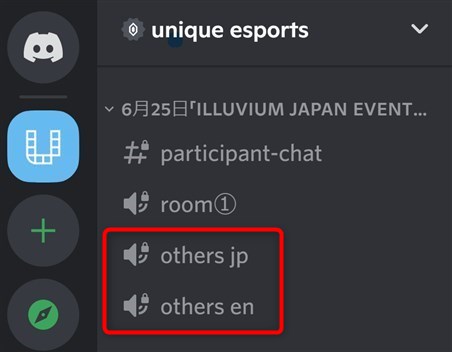 3. How to Receive a prize
The prize winner is required to inform of the following three points by sending a message in the Unique Discord channel of  [ #📧:contact-us ]. ->
1. Email address
2. Illuvium player name
3. Metamask wallet address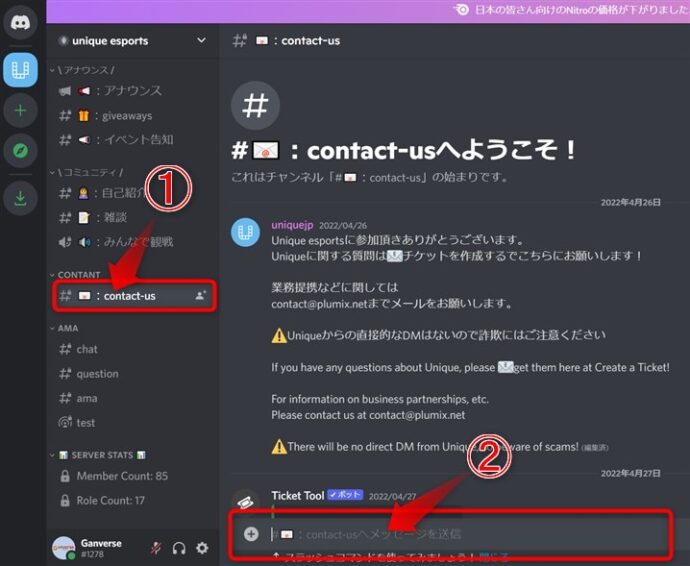 The management will transfer the prize money and contact you.
If you have any questions, you can always ask on the Unique Discord AMA.